"Training Wheels"

This article is a stub. You can help the Turbo Dismount Wiki by expanding it.
---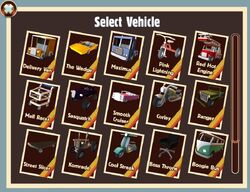 Vehicles are the many rideable objects in the game Turbo Dismount. The vehicles come in many sizes and shape, and have different functions. Every vehicle also has at least 1 or more separate Poses. Through customization, the player can place an image of their choice onto the vehicles. The Controls simple Space and see the outcome (or if you know about then steering update then get your fingers on the arrow keys or the mouse on the white dot on the wheel)
Trivia
Vehicles can be destroyed by using Obstacles.
Every vehicle can have speed, 50 mph or more.
Ad blocker interference detected!
Wikia is a free-to-use site that makes money from advertising. We have a modified experience for viewers using ad blockers

Wikia is not accessible if you've made further modifications. Remove the custom ad blocker rule(s) and the page will load as expected.