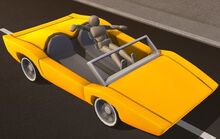 The Wedge
The Wedge is a vehicle in the game Turbo Dismount. It is listed as Vehicle 2 out of 32.
Description
Edit
The Wedge is a yellow vehicle that's body design is that of a convertible, with two exhaust pipes in the back where turbo comes from. There's no steering wheel, and the interior has 2 seats. When adding a logo, it appears on the hood of the Vehicle.
The Wedge is so far the fastest vehicle is the game, capable of going up to (Seen on the fan-made Test1.) 300 mph easily.
Is probably the fastest car in the game. At full speed on a straight line, it reaches over 460+ mph, rivaling the Shuriken and The Squealer
Ad blocker interference detected!
Wikia is a free-to-use site that makes money from advertising. We have a modified experience for viewers using ad blockers

Wikia is not accessible if you've made further modifications. Remove the custom ad blocker rule(s) and the page will load as expected.